Projects and Airport Development
FY 2022-2024 Disadvantaged Business Enterprise Goal
The City of Lincoln, CA, as sponsor for the Lincoln Regional Airport/Karl Harder Field, hereby announces a proposed overall Disadvantaged Business Enterprise (DBE) goal for its Federal Aviation Administration (FAA) DBE Program. The proposed overall goal for FAA-AIP funded projects in FY 2022 through FY 2024 is 2.15%.
Project specific information is located below:
Fiscal Year 2022: N/A - Conduct or Update Miscellaneous Study (Less than $250K - No DBE Goal Required)
Fiscal Year 2023: N/A - Install New Underground Oil-Water Separator (Less than $250K - No DBE Goal Required)
Fiscal Year 2024: 3.36% - Reconstruct RW 15-33, Regrade Shoulders and RW Safety Areas, Replace PAPI's, Adjust FAA MALSR, Relocate Service Roads, Remove ROFA Terrain Penetration (Design)
Public Comment Period - February 2023
The public comment period on the proposed goal ended on February 27, 2023. Thank you for your input!
---
Airport Fuel Island - CIP 229

Phase 1
Phase 1 was completed Fall 2020. This project replaced the airport's failing underground fuel tanks by installing:
New 12,000 gallon above ground JetA fuel tank
New 12,000 gallon above ground AVGas fuel tank
New credit card reader
New tank monitoring system
Phase 1 Project Cost
$1.2 million
Phase 1 Funding Sources
Redevelopment Agency Bond Proceeds Fund 400
Capital Improvement Fund 540
Phase 2
Phase 2 is currently in construction and will remove the decommissioned airport underground fuel tanks that were constructed in the early 1980s. The underground fuel tanks must be removed by 2025 per the California Regional Water Quality Control Board.
Phase 2 Project Cost
$350,000
Funding Sources
Capital Improvement Fund 540
---
Reconstruction of Runway 15-33 - CIP 230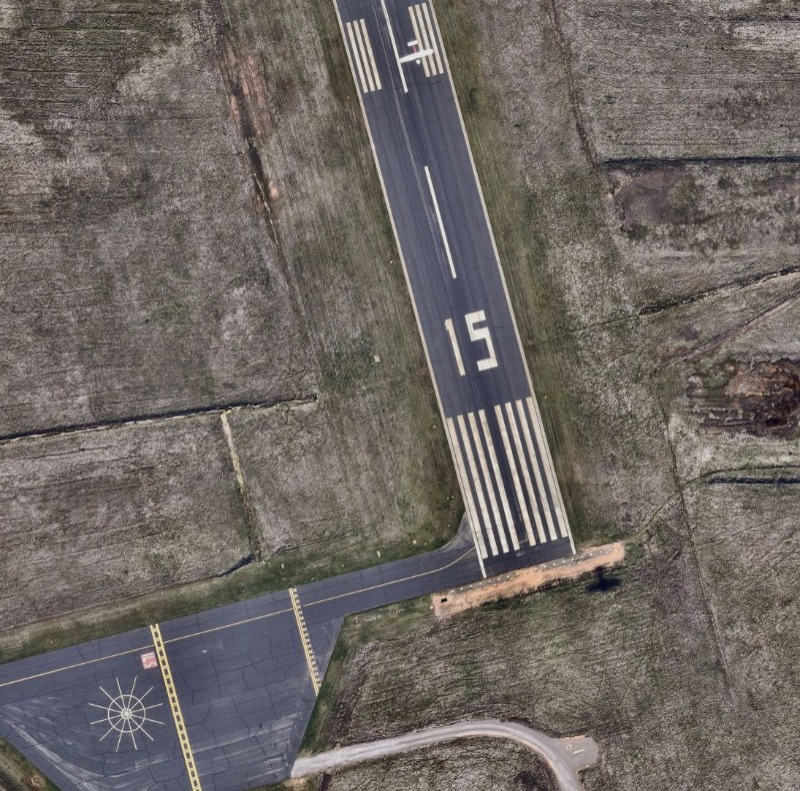 Runway 15-33 is nearing the end of its service life and requires complete reconstruction. The pavement is weathering and cracks have developed due to thermal expansion and contraction. The project is currently in the environmental permitting phase.
Project Cost
$12 million
Funding Sources
Airport Operations Fund 750
Federal Aviation Administration Grant Fund 755
Final Environmental Assessment
The Federal Aviation Administration (FAA) announced that a Finding of No Significant Impact (FONSI) was approved based on results from a Final Environmental Assessment, dated December 2022.
The FAA approval of the City of Lincoln's proposal is to reconstruct the airport's only runway, Runway 15-33. The proposed runway reconstruction project is described in Section 4 of the FONSI, and detailed in Section 1.3 of the Final EA:
Reconstruct Runway 15-33
Regrade Runway Safety Areas
Remove objects from the Runway Object Free Area
Relocate Service Roads
Raise existing Runway 15-33 lights to match new runway grade
Install new runway lights
Install new guidance signs and new Precision Approach Path Indicators
Match new runway grade to existing cross taxiways
Excavate and eliminate a topographic feature which penetrates Part 77 airspace
The FONSI indicates that the proposed action is consistent with existing environmental policies and objectives as set forth in the National Environmental Policy Act of 1969 in that it will not significantly affect the quality of the human environment.
Mitigated Negative Declaration and Mitigation Monitoring/Reporting Plan
The City of Lincoln has prepared an Initial Study (IS) of environmental effects and intends to adopt a Mitigated Negative Declaration (MND) and Mitigation Monitoring/Reporting Plan (MMRP). Public comment period ended July 22, 2022. Thank you for your input!
---
Airport Layout Plan Update - CIP 383
The Lincoln Regional Airport Layout Plan was last updated in 2020.
The Airport Layout Plan (ALP) serves as a planning tool that depicts both existing facilities and planned development for an airport. Sponsors of airport development carried out at federally obligated airports, must accomplish the improvement in accordance with an FAA approved ALP.
By definition, the ALP is a plan for an airport that shows:
Boundaries and proposed additions to all areas owned or controlled by the sponsor for airport purposes
The location and nature of existing and proposed airport facilities and structures
The location on the airport of existing and proposed non-aviation areas and improvements thereon.
Project Cost
$125,000
Funding Sources
Airport Operations Fund 750
Federal Aviation Administration Grant Fund 755